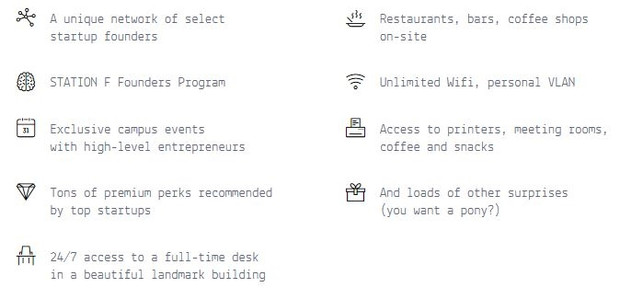 Station F, the new name of Halle Freyssinet in Paris, will be inaugurated in April 2017. The world's largest start-up campus, is launching a call for applications from start-ups from around the world to participate in new incubation programs.
The Founders Program, a program for which a call for applications is launched with innovative startups, will be managed directly by Station F.
It is an acceleration program for startups who have already developed a prototype or prooved the feasibility of their concept without having raised funds ("early stage"). The offer includes a permanent office at Station F for a minimum period of three months (competitive rent of € 195 / month) with access to all events, trainings and services.

About 100 projects will be accepted and Start-ups are invited to fill in an application by 5 February 2017.

To apply: https://stationf.co/application-process/

Another program will be launched shortly: the Fellowship Program - an offer of offices available five days a month for startups or investment funds wishing to have an office in Paris and access to rooms for their appointments Business.

More information: https://stationf.co/en/

Crédit Photo : https://stationf.co/apply/